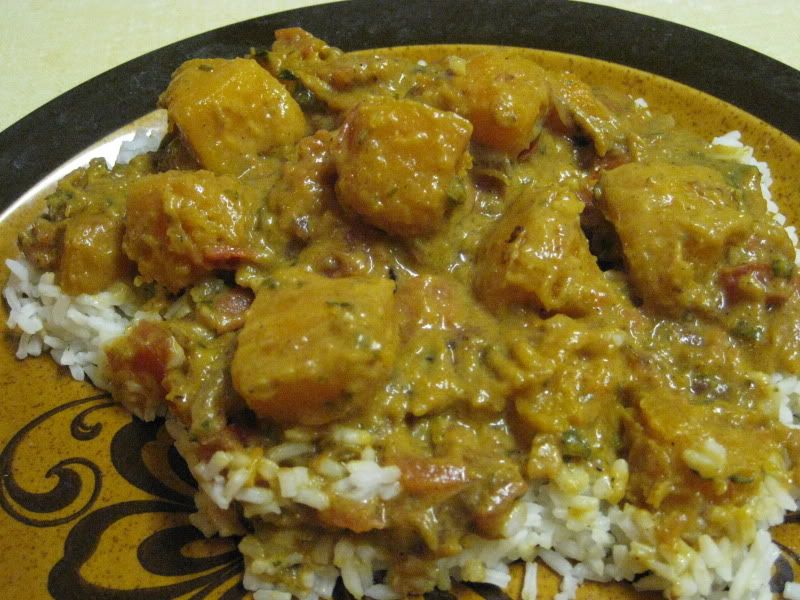 I love butternut squash. I love it even more if it is roasted.
I originally bought the squash to make roasted butternut squash soup, but that would have made more soup than I would have been willing to eat all by myself. I love soup, but I do feel that you can have too much of a good thing at times. So, I decided to use half of the squash to make soup, and the other half of the squash to make curry. Here is the recipe for the curry, I will post the soup recipe sometime soon.
The flavor of the curry was excellent and I will definitely be making this recipe again. Although I'll likely add a bit more heat to it.
Roasted Butternut Squash Curry
1/2 Butternut Squash, roasted (See Note), peeled, and cubed. About 1" pieces
2 tbsp olive oil
1/3 cup Unsweetened Coconut Milk
1/4 cup water, if necessary
Two 2" x 1" x 1/8" pieces of ginger, peeled and julienned
1 small red onion, thinly sliced lengthwise
5 cloves garlic, finely chopped
2 tsp Hot Madras Curry Powder
1 tsp Kosher Salt
1 large tomato, cored and diced
2 tbsp fresh cilantro, finely chopped
Cayenne pepper, to taste (optional)
Heat wok over medium-high heat
Drizzle oil down the sides.
Add garlic, onion, ginger, and stir fry until light brown
Add the squash and the curry powder, stir fry until the squash begins to brown.
Add the salt and the coconut milk.
Cover, lower heat and simmer for 4-5 minutes.
If the sauce becomes to thick, add water to thin it out.
Remove the squash from the liquid.
Return heat to medium high.
Add the tomatoes and the cilantro, cook until sauce thickens up.
Add the squash back in and stir until reheated.
Remove from heat and serve over steamed rice.
Note:
To roast the squash:
Heat oven to 375 degrees.
Cut squash in half, lenthwise.
Remove seeds (don't throw them away, allow them to dry out a bit and
then
dry roast them
).
Place squash, with cut side facing down on lightly oiled baking pan.
Cook for approximately 30 minutes, or until soft.
Peel the squash while still hot from oven. Be careful not to burn
yourself.
You may also peel the squash beforehand.
This dish was adapted from Breast of Chicken with Tomato and Coconut Milk from
660 Curries
.