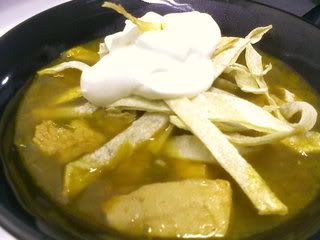 2-3 chicken breasts, trimmed of fat.
1 medium white onion, chopped coarsely
1-2 cloves of garlic, minced
2-3 diced jalapenos or 1-2 Serrano peppers
3/4 cup tequila (1/4 cup for marinade, 1/2 cup to add into soup)
4-6 tbsp lime juice
1 tbsp brown sugar
1/2 cup cilantro, chopped
2 tsp oregano
2 tbsp cumin
1 can diced tomatoes
4 cups unsalted chicken stock
2 cups water
Salt and pepper to taste
Optional stuff
Tortilla strips or chips
Sour Cream
Lime Slices
In a ziploc bag, place the chicken breasts, 1/4 cup tequila, 1 tablespoon brown sugar, and 1-2 diced jalapenos. Let marinate for 30 minutes of so.
In a good-size pot, add a small bit of olive oil over medium high heat.
Add the onion and cook until clear
Add the garlic after onion turns clear, cook until fragrant.
Add contents of marinating bag to the pot.
Then add all the other ingredients except for the cilantro.
Bring to a boil and then reduce to a simmer.
Add the cilantro, and cover.
Simmer until chicken starts to break down.
If you're in a hurry, brown the chicken breasts on both sides and slice into bite size pieces before hand.
Then add into the pot and cook for about 10-15 minutes until all the flavors have melded.
Serve with sour cream, tortilla strips, and top with some extra sprigs of cilantro.