When I was a kid, both of my parents worked long hours and did not have the time to prepare meals at home. This meant that frozen dinners were often found warming in the microwave. One of my favorite types was pepper steak with rice. All I had to do was add a little bit of La Choy soy sauce (I know, I know), and I was in heaven.
My appreciation of food, and soy sauce, has come a long way since then. However, I still have an affinity for the tastes that defined my childhood. I began to play around with a recipe to replicate pepper steak at home. With a little trial and error, I have come across a flavor that is much better than the flavor held in my memory, but still as heartwarming as what I grew up on.
This recipe doesn't have meat in it. If you want to add meat, add it to a pan, with a couple of tablespoons of olive oil. Cook over medium heat, until brown before you saute the vegetables. Also, add the flour to the meat instead of the veggies.
4 Large Bell Peppers, sliced into strips - Colors of your choice.
2 Serrano Chili Peppers, diced.
1 Large Yellow Onion, sliced into rings and sliced through on one end.
3 Cloves Garlic, minced.
2-3 Tbsp Ginger, minced.
1/2 C Soy Sauce
1 1/2 C Water
~ 2 Tbsp Flour
2 Tbsp Olive Oil
Salt and Pepper, to taste.
Prepared Long Grain Brown Rice
Makes 4 Large Servings.
Preparation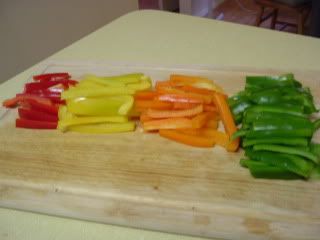 The colors man....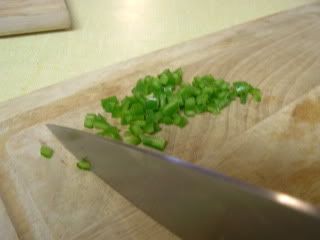 A little heat goes a long way. Unless you're me, I like a lot of heat.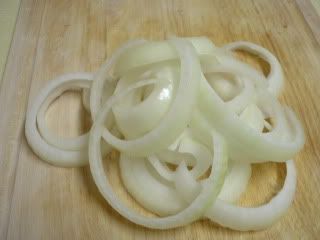 I promised I wouldn't cry...
Some people say that there is such a thing as too much garlic, they're wrong.
The ginger really makes this dish.
In a large saute pan, over medium heat, add two tablespoons of olive oil.
When the oil is heated through,(throw in an onion slice to check), add the onions.
Cook until clear.
Add the garlic and ginger, saute until fragrant.
Add the Serrano, sauteing for a few minutes.
Add the flour. Make sure all the veggies are coated and beginning to get gummy. If necessary, add more flour.
Add the water and the soy sauce.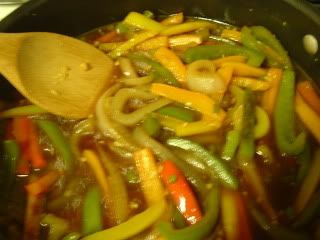 Bring to a boil, and then simmer until the sauce thickens.
Serve over rice.
Voila!