Last month, the 83rd annual Greek Festival (formerly Greek Picnic) commenced in the wide-spot-in-the-road known as Bridgeport, Nebraska. The Greek Picnic/Festival is a yearly event in which the Greek Religious Community gathers to honor the name day of their church located in Bayard, Nebraska. The festival also brings the Greek community together with the wider community. Allowing many who do not experience Greek food or culture on a regular basis to become Greek for a day; with a wide variety of food, drink, music, and dancing to immerse themselves in.
The Greek Festival is a two-day event which commences with the Saturday "party" night. The room is lined with booths and many people jockey for position to get some of the best foods before they run out. Each year the room is often packed to the gills and, like this year, the room was packed beyond the seating. Rows of people who could not find seating filled in the outer lanes to eat their food and watch the entertainment of the evening.
I took as many pictures as I could, but the lighting was not the best; so, bear with me.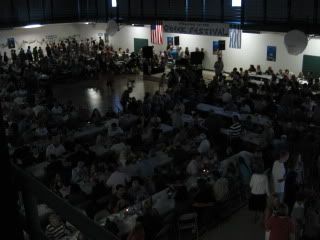 Saturday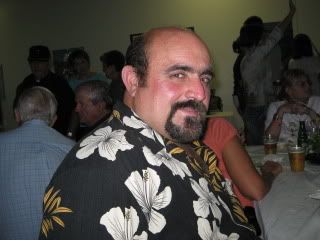 My dad, looking particularly evil for a man in a Hawaiian shirt.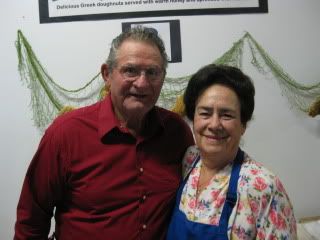 My Yia Yia and Papou, keeping the tradition alive.
The Booths
Kalamaria (Squid)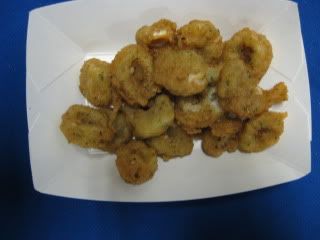 Fried to a nice deep brown, and spritzed with a nice helping of lemon juice before you take it to your seat.
Any veteran (and non-vegetarian) of the festival will tell you that this is the first booth that you must visit. If you don't get to the festival early, you're SOL.
Souvlaki (Kabobs)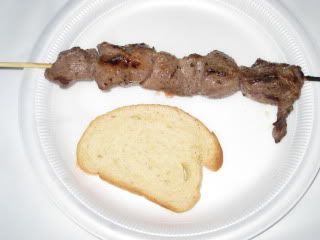 There were two kinds of souvlaki available, lamb (arni) and pork (xirino').
Personally, I always pick the lamb (pictured above). And most people I know pick the lamb. The pork seems to be a fallback for those people that do not like the taste of lamb. I say let them have the pork, more lamb for me.
Loukanika (Greek Sausage)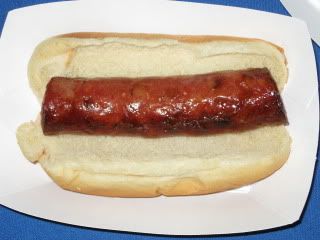 This is a spicy Greek sausage. I can tell you that it is made with pork mixed with orange peel and red pepper flakes, and then smoked. However, I cannot tell you what else is in it, because each family makes their own variety and these variations are often well guarded.
This sausage has a nice sweet taste tempered by the red pepper.
Tyropita
(Literally Cheese (tiri) Pie, but often made in the form of triangles)
Nice, crispy phyllo dough surrounding a firm, cheesy center that will make your day. This year, they were particularly nice. There is always the possibility of sogginess when making large batches, but whoever was baking this year was on the money.
Gyros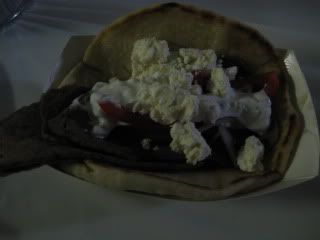 I know, the picture isn't the best. The gyros were layered with gyro meat, onions, tomatoes, lettuce, tzatziki sauce, and feta cheese, all on a warm buttered pita round.
Greek Salad
The Greek Salad varies form year to year, as the people manning the station often change. The salad this year was quite a mishmash of different items.
The salad consisted of lettuce, tomatoes, cucumbers, and onions. Traditional Greek Salad doesn't have lettuce, lettuce is often used when tomatoes or cucumbers are in short supply or if you're trying to increase the volume. I can't blame them for extending the batch, you have to make this stuff go as far as possible.
Sometimes, the salad is topped with kalimata olives and crumbled feta cheese.
The dressing is usually a mixture of oil, oregano, a bit of lemon juice, a nice tart vinegar (red wine vinegar works nicely), and salt and pepper to taste.
On top of all this, the salad also included two dolmathes (stuffed grape leaves) and a couple Golden Greek Peperoncinis.
The biggest complaint that I heard this year was that the vinegar used was too sweet, which means whoever was in charge of salad this year decided to use Balsalmic Vinegar. I decided to pass on this one.
Greek Sweets
Loukamathes
(Greek Donuts with honey and nuts)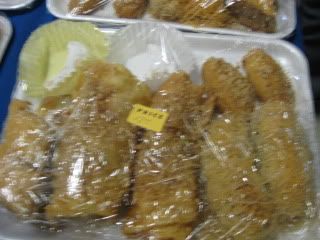 Let's see what we have here.
On the top left, we have
kourabiedes
. Soft butter cookies coated liberally with powdered sugar. When taking a bite, don't breathe. You've been warned.
On the top right, we have
melomakarona
. A spiced cookie with honey and nuts often served around the holidays.
Next, on the bottom left, we have
kataife
. A wonderful Greek sweet made with honey and walnuts, spiced with cinnamon and wrapped in crispy wisps of phyllo.
In the center, we have the
diples
. Diples are fried dough, drizzled with honey and crushed walnuts and spiced with cinnamon. They make a nice crunchy treat without the hassle of juggling a variety of ingredients.
And those diamond shaped blurs on the bottom left are baklava.
If you don't like honey or nuts, then this definitely isn't the place for you. If you hadn't figured that out already.
Death by Sweets is a definite possibility given this assortment of sugary goodness.
Where is a better picture of
baklava
, you ask.
A Greek Festival surely has baklava available by itself.
Well, I didn't buy any at the festival, because I asked my Yia Yia nicely and she gave me two pans like this: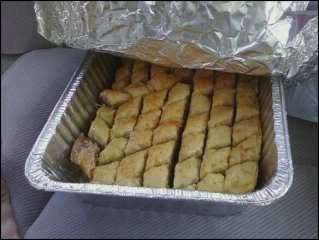 I had so much that, once I got my fill, I passed it around to other graduate students and professors to enjoy.
Sunday Dinner
The second day is the much more formal Sunday dinner. Being the formal day, I was expected to eat with family and catch up with family and friends. So, unfortunately, I was unable to get pictures of the meal on this day. However, I can describe what was served.
For the sit down meal we had: dinner rolls, Spanikopita (Spinach Pie), Greek Salad, Greek Potatoes, feta cheese, slice roast lamb and/or beef, and a honey-walnut cake for dessert.
The Aftermath
Overall, it was a blast. I enjoy the festival because it allows me to see people I haven't seen in a long time and it give me an excuse to eat food I hardly get to eat anymore.
The Greek Festival is important to me not because of any religious affiliation, but because it is a time when I can see much of my family. Many of them driving long distances to come celebrate the church their family and friends grew up in. One of the joys of this time of year is that there are few other events that conflict with this celebration which would normally prevent the ability to travel. Anyone dealing with two or more families around the holidays understands this problem.
- Depressing reflections below, to stay cheery stop reading here -
While the Greek Festival is a great time to see family and friends and eat wonderful food, it is also has a dark side to it. Each year, the Greeks that lead the festival get older and there are very few younger Greeks that are there to fill the void. I myself am an example of this. To pursue my goals in life, I must leave the community and, as I do so, I lose my connections and some of my heritage in the process. I am afraid that with the lack of jobs for the younger generations that the presence of Greeks in the panhandle will continue to dwindle to the point of nonexistence, taking with them the history and traditions that have been passed down for generations.